How to Adjust Email Quota In cPanel
You might need to change your email quota based on your requirements and current circumstances. Expand the Email Capacity Users will be given greater storage space in cPanel so they are not need to delete emails or empty the trash bin.
Follow the steps below to adjust your email quota:
Firstly, login to cPanel.
Secondly, click on "Email Accounts"

 under 

"Mail"

 section.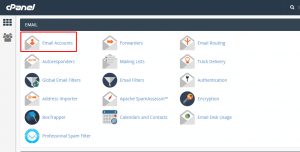 You will see a list of existing mail accounts in the cPanel.
Next, click on "Change Quota"

 button on the account that you want to make changes to.

Then, you may insert the new quota in the blank field by choosing the value from the drop down menu. You can choose "unlimited" but it is not advisable to do so. Click on "Change Quota" once you have keyed in the new email quota to save and apply changes.

Lastly, a success message will be displayed if there is no error in your earlier steps. And you're done!