How to Terminate Multiple Accounts via WHM
There is an easy option to close one or more accounts in a batch if you want to deactivate hosting accounts using WHM. To terminate different accounts through WHM, adhere to these instructions.
Enter the WHM administrative dashboard first. Type "terminate" into the search box, then click Terminate Accounts under Account Functions.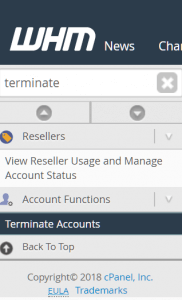 2. A list of current accounts will then appear on the screen. Select Remove the accounts you have chosen after selecting the accounts you want to delete. If you want to maintain the accounts associated with DNS records, take note of the checkbox Keep the DNS zone next to each of the available entries.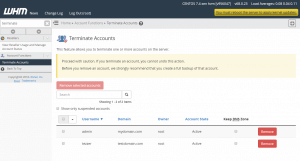 3. To complete account deletion, click the Yes, delete the selected accounts option. You'll get a confirmation message on the screen after the accounts have been deleted.