How to do housekeeping in your Shared Hosting Mailbox?
If you are using Outlook, make sure you do not tick "leave a Copy in the server". If you still require this option, check the box to leave a copy while selecting the "REMOVE the mails after 8 days" checkbox.
For Webmail users, be careful to log in and delete large or unnecessary emails.
How to do housekeeping in your Outlook Mailbox?
If you use Outlook, you might need to minimise and re-optimize your mailbox in order to perform mailbox housekeeping. If so, keep reading for some advice.
5 Tips to Reduce the Outlook Mailbox Size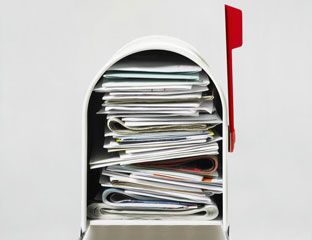 Do you frequently receive messages from your system administrator requesting that you shrink the size of your Microsoft Outlook mailbox? The majority of us struggle since cleaning takes a lot of time. Now, give these suggestions a try to achieve a quicker, more organised method of keeping your mailbox smaller and simpler to manage.
Please take some time to back up your Outlook.pst file before you begin (with a stand-alone version). Typically, it can be found in Documents under the Outlook Files folder.
Additionally, keep in mind that the procedures below only work with Microsoft Outlook 2016, Outlook 2013, and Outlook 2010.
1. Cleaning Up Your Mailbox
The best place to start is to open the Mailbox Cleanup tool. In Outlook, choose File > Info > Cleanup Tools > Mailbox Cleanup.
Start by selecting the option for View Mailbox Size. The size of your mailbox and all of its subfolders should be scanned. These folders are the main causes of your enormous mailbox, therefore this is a wonderful approach to target them. You should therefore tidy these up first.
You'll see the tabs Local Data and Server Data when you login to Exchange. Examine only the Local Data tab. The cleanup adjustments you make will then be applied immediately to the server as well.
Select the options to Find older or larger items, which you can then immediately delete from the results to reduce the size of your Outlook inbox.
You can conduct an AutoArchive based on your archive settings (see Archive Older Messages below).
Finally, check the size of the Deleted Items folder and Empty the folder if you want. 
2. Move the Messages to Your Personal Folders
Moving Outlook items to your Personal Folders will help you lower the size of your Outlook mailbox if you're using Exchange to access Outlook. However, given that so many businesses no longer offer personal folders, you might not have this option open to you.
The Personal Folders file (outlook.pst) is still on your local hard drive and cannot be accessed remotely, even though the messages you move to Personal Folders are no longer included in the calculation of the size of your mailbox. As a result, you ought to backup this file as well. This will stop these Outlook items from being lost if the computer crashes or is updated. Your email, calendar, tasks, and notes are all kept in the outlook.pst file if you are using a standalone version of Outlook (or .ost file-offline). The file has a size limit of 50GB (Outlook 2019, 2016, 2013 & 2010).
3. Archive Older Messages from Your Mailbox
Periodically archiving your Outlook folders is an additional option. You might not be able to modify the archive choices if you are using Exchange to access Outlook. These archives are under the authority of the system administrators or a third-party programme.
Under the Info > Cleanup Tools > Archive option, you can configure your archive options. The archive.pst file can be created and updated in any location you want, which is often your local hard drive. In addition, depending on the settings you choose, you can relocate the file and delete the archived things from your Outlook inbox. Your archived items cannot be accessed remotely, much like the Personal Folders file. As a result, you ought to regularly backup the file.
4. Empty the Deleted Items
In addition, when you close Outlook, the Deleted Things folder is automatically empty, allowing you to quickly clear all your deleted items. Select the Advanced tab under File > Options to put this into effect. Next, select Empty Deleted Items from the Outlook start and quit menu, then click OK to close Outlook.
Right-click the Deleted Items folder and select Empty Folder from the shortcut menu (Empty "Deleted Items" Folder for Outlook 2010). This will manually remove everything from the folder. Please be aware that after you clear deleted things, you cannot undo the operation. Therefore, be certain that you truly want to permanently remove a communication. Press [Shift] + [Delete] for a selected item to skip the Deleted Items folder instead of simply using the [Delete] key. Then, confirm the delete process.
5. Save and Remove Attachments
The majority of the space consumed in your Outlook inbox is due to attachments in email messages. One choice is to save the attachment and remove it from the original email, depending on the email exchange. This involves extra procedures but could help you minimise the size of your mailbox:
Firstly, open the message.
Start by opening the message.
Next, select Save All Attachments from the context menu when you right-click on the attachment. The Message tab's Actions option is also available. Next, select Save All Attachments under Other Actions.
Then, choose Save after finding and selecting the folder where you wish to save the file or files.
You can erase the message after saving the attachment. Simply select "Remove" from the context menu when you right-click an attachment in a message if you want to keep it.