Like anything else, a business starts small and expands over time with the correct marketing and care. Your company's clientele and revenue grow in tandem with the amount of traffic it receives. And a slower website speed is directly related to greater traffic. But there's a catch: the first assertion is only true if your company has outgrown its hosting subscription.
VPS (Virtual Private Server) hosting is one of the most popular solutions among the several hosting options available. The reason for this is that it is the ideal combination of shared and dedicated hosting. Managed VPS Hosting and Unmanaged VPS Hosting are the two basic forms of VPS Hosting.
In this article, I'll explain what these two forms of VPS hosting (Managed vs Unmanaged VPS) include, how they differ, and which one you should choose as a business owner. Let's get started!
What is Managed VPS Hosting?
Managing a server involves a significant amount of time, effort, and technical knowledge. In Managed VPS Hosting, your service provider handles all server-related tasks such as core upgrades, maintenance, and software installation, allowing you, the business owner, to focus entirely on expanding your company. In simple terms, managed VPS Hosting is a hands-off approach.
Managed VPS Hosting is your go-to hosting solution if you're a new business owner with little or no technical skills, as you won't have to worry about anything server-related.
What is Unmanaged VPS Hosting?
Unmanaged VPS Hosting, in contrast to Managed VPS Hosting, requires you, the business owner, to manage all server responsibilities and maintenance operations, while your hosting provider only looks after the physical server and its availability.
You'll require technical knowledge or dedicated in-house resources to administer your server, operating system, and other server-related resources if you choose unmanaged VPS hosting. Unmanaged VPS Hosting is better suited to current enterprises rather than emerging firms, even if you are technically adept, because the main focus is on building your company in the market.
Difference between Managed and Unmanaged VPS Hosting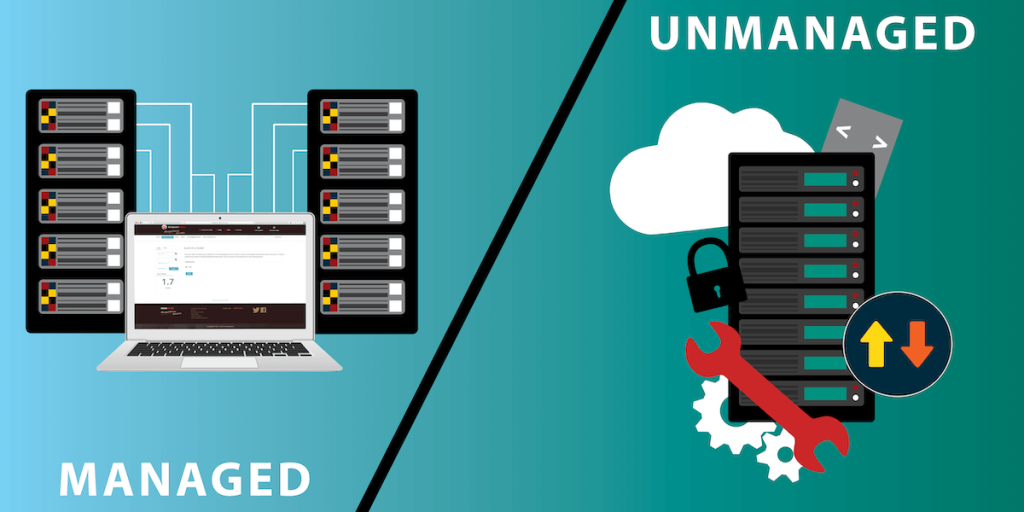 | Managed VPS Hosting | Unmanaged VPS Hosting |
| --- | --- |
| The hosting provider is responsible for server maintenance and upgrades. | Your hosting provider is solely responsible for the actual server's uptime guarantee. |
| Cost-wise, it's a little pricey, but it's the greatest option for novices. | When compared to Managed VPS Hosting, this option is less expensive, but it is best for advanced users. |
If you plan to migrate to VPS Hosting, I'm sure you've figured out which hosting options is best for your business website between Managed VPS and Unmanaged VPS Hosting. It is just as picking the proper hosting is crucial, so is picking the correct hosting provider. A reputable hosting provider can make or break your website because the availability and uptime of your website is dependent on the availability of the primary server, regardless of which hosting type you choose.