Web hosting is one of the most critical factors to consider for the success of your online presence. As more organisations go online, the demand for various hosting kinds is increasing. Moving to the Cloud has become the slogan for websites today, and it is among the most popular web hosting platforms. Cloud hosting is hailed as the future of hosting because of its redundant architecture, which aids in combating the growing threat of cyberattacks.
What are the right resources for cloud hosting?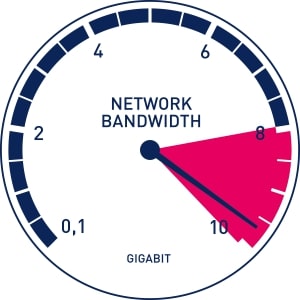 The term bandwidth refers to two distinct elements: speed and time. Bits, bytes, kilobytes, megabytes, gigabytes, and other units of computational communication are used. Seconds are used to measure speed. The quantity of data that a server can transfer in a second is referred to as bandwidth. A server with a bandwidth of 100Mbps can transfer 100 megabytes of data per second.
Data is transferred from your web server to the user's browser during website hosting. Metered, unmetered, and unlimited bandwidth plans are available from most hosting businesses.
Metered connections work in the same way as a residential internet service does. Because they do not have a usage cap, unmetered connections are thought to be the best. Unmetered bandwidth with a greater cap is the same as unlimited bandwidth. As a result, instead of a 100GB ceiling, it could be 300GB. Before committing to an unlimited plan, make sure to read the fine print.
Web hosting firms have a wealth of information about how much RAM a website requires in the past. As a result, most hosting plans include sufficient RAM.
The highlights, though, are that a CMS must have at least half a GB of RAM to function efficiently. RAM will be required by other programmes and apps as well. Complex websites require a lot of RAM, and if you have a lot of traffic, you'll need even more RAM.
The basic line is that if you're utilising a CMS, you'll need at least 2GB of RAM. If you go below that, your website's performance will suffer.
It's straightforward to calculate how much storage you'll require. Text is light and requires little storage, as a general rule. More storage is required for video, animations, and photographs. If you are unable to estimate the storage requirements for your website – particularly if it is a new website – you can choose an unmetered disc space option, similar to bandwidth.
Smaller websites with fewer pages require fewer CPU cores. To process instructions quicker, high-traffic dynamic websites require more CPU cores. If you're launching a new website, there's a good possibility you won't have much content or visitors. As a result, start with two CPU cores. You can raise the core count as your traffic grows.