For building your website, there are many types of traditional web hosting such as  shared, dedicated, WordPress hosting, and virtual private servers (VPS). Cloud hosting, on the other hand, spreads your website across numerous servers and gives a customizable solution to power your website.
To run your website, traditional hosting takes use of a single server's CPU, RAM, storage, and data transfers. In shared web hosting, for instance, your website shares resources with other websites on the same server. As a result, there are a slew of unpleasant power limits, as well as an inability to handle sudden traffic surges.
For better service, you can pay for a virtual private server or even a dedicated server with varying processing power. You're essentially depending on one server in all of these instances. The single-server hosting model, on the other hand, is thrown out the window with cloud hosting. When your website is hosted in the cloud, it makes use of resources from multiple servers.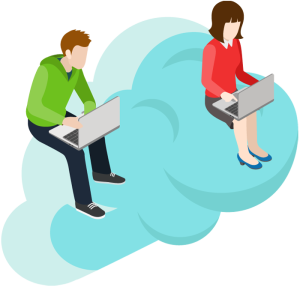 Due to the usage of several servers, cloud hosting provides some advantages over traditional hosting. If your website experiences a sudden spike in demand, it can borrow resources from another server to minimise page loading delays or, worse, the site going down totally.
Additionally, cloud hosting allows you to simply scale the resources of your website up or down as needed. You may need to switch to a different hosting type to achieve the power that your website requires with ordinary hosting (for example, from shared to VPS).
It's important to note that there are several types of cloud hosting. Cloud hosting packages from traditional web hosts are priced similarly to their other web hosting packages (typically in the shared or VPS categories).