You should constantly update WordPress.
One of the key things you can do to keep a safe WordPress site is to frequently update it.
Stability: Updates for WordPress include bug patch fixes and other problem areas. When you installed the recent updates, your site is more stable.
New features: By running the recent version you have access to the latest features and functionality, making WordPress continuously improving.
Please follow the steps below to update WordPress.
Step 1 of 3
First off, log in to WordPress as the administrator.
Step 2 of 3
After then, when updates are available, the dashboard displays the quantity of updates in a Red Circle. Two updates are accessible for the WordPress installation below, for instance: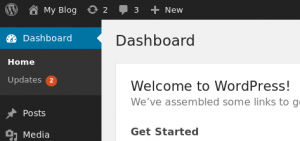 WordPress installation updates available
Step 3 of 3
Click Updates next. Updates for the WordPress core installation, plugins, and themes are shown by WordPress:
WordPress, click Upgrade Automatically.
Plugins, Choose the plugin you would like to update, and then click Update Plugins.
Themes, select the theme or themes that you would like to update and then press the Update Themes.
Why You Should Constantly Update WordPress
The majority of WordPress websites that are compromised are as a result of outdated WordPress core, plugins, or themes, according to reputable WordPress security research.
Developers from all over the world regularly maintain WordPress. These programmers routinely track down security flaws, introduce new functionality, and uncover and fix errors. A new WordPress version is then launched with these improvements.
WordPress can update itself to the newer version automatically if it is not a major update. If you are not using managed WordPress hosting, you must manually start the upgrade for major updates.
To ensure that your website has the newest features, the most recent security patches, and the optimal speed and performance, you must update.
What To Prepare Before Upgrading WordPress
Making a comprehensive backup of WordPress is the most crucial step you must take before upgrading WordPress.
even if you have a WordPress backup plugin set up for automatic backups. You must continue to build new backups and store them securely in a distant location.
Everything is included in a full WordPress backup, including:
Your database in WordPress
All the images and media you uploaded
All your WordPress plugins and themes
Core WordPress files