Skeleton Directory in WHM
When new accounts are generated by the system, you can quickly copy or duplicate the same files to their public html and public fip directories using WHM's "skeleton directory" feature. For new cPanel accounts, you can essentially use this skeleton directory, or skel.
1. Open WHM in your browser, type 'skeleton' into the search box, this will sort the menu options for you. Then find and click "Skeleton Directory".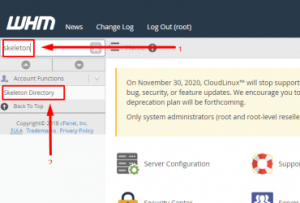 2. The path to the default Skeleton directory is displayed on the Skeleton Directory page. A brief explanation on how to use this folder may be found below that.
The WHM/cPanel skeleton directory is often located at /root/cpanel3-skel. Even though it's improbable, this folder might alter in some extreme circumstances or possibly when WHM's version changes.
3. You must first add files or directories to this directory over FTP in order to use this folder. You can create a new cPanel account to automatically copy these items whenever you've added files or folders to this directory.
You can automate some default setups by using the skeleton directory to enhance the user experience for new users or to stop new domains from being indexed without any useful content.
The concept of a skeleton directory is so flexible that you don't have to use FTP to use it.