If you log into cPanel, you will see on the left/right hand side "Entry Processes" with a number.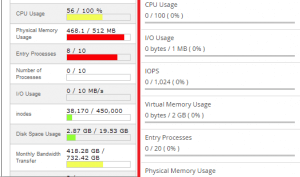 An " Entry Process" is how many PHP scripts you have running at a single time. The Shared Hosting has a limit of 20 PHP scripts at a single time.
The majority of people are uncertain about how many visitors they can have on their website because a "Entry Process" just takes a tiny fraction of a second to complete. A 20 limit entry process does not restrict the number of users who can access your website at once to only 20, as it is quite unlikely that 20 users will access it simultaneously.
We've observed that a 20 entry restriction may typically accommodate 50–60 visitors to your website at once. If your website receives little traffic but is consistently at 20 Entry Processes, there is a problem with your scripts because they are hanging around longer than they should.
SH sessions and cron jobs also count towards entry processes. If you are trying to access a PHP page you may receive a 508 (Resource Limit Reached) page.