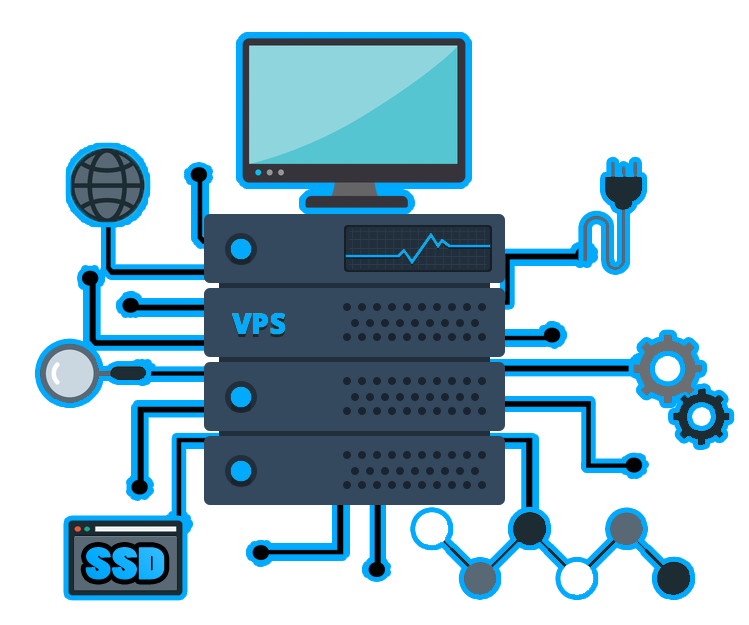 VPS hosting combines the greatest features of both shared and dedicated hosting. VPS hosting, like shared hosting, places your website on a server that also hosts other websites. What's the difference? There are fewer websites on each server, and each website has its own resource allocation (like dedicated hosting). The sites split the cost of running on the server, resulting in a monthly or annual fee that is less than dedicated hosting's very high cost.
The VPS Hosting Featuers You Need
After you've registered your website's domain name, you'll need to choose your server's specifications. Multiple VPS plans with varied levels of email capability, RAM, storage, CPU power, domain hosting, and monthly data transfers are commonly available from web hosts.
Website builders are generally included with the plans, allowing you to rapidly create a face for your site without requiring much—or any—coding. A good web server should have at least 4 GB of RAM, 100 GB of storage, and a large monthly data transfer volume. If you intend your website to grow significantly, you should seek for a web host that offers as many infinite features as feasible. 
You'll want the option to create an infinite number of accounts when it comes to email and limits. You'll love being able to scale your email accounts without having to spend more money if your website grows dramatically. The amount of storage per email account is usually limited by web servers.
To put it another way, you may be able to create an unlimited number of email accounts, but each one will have a storage restriction of 10GB. To avoid being startled by a possible web host's messaging constraints, take the time to explore its email options. Find out what the limitless gotchas are once more.
Typically, a web hosting service will let you choose between a standard hard disc and a solid-state drive as the storage medium for your website. Traditional hard drives offer larger capacities and are less expensive, but they are not as durable as SSDs. Solid-state drives, on the other hand, are frequently faster and more dependable than traditional hard disc drives, although they are more expensive and have smaller storage capabilities. Unless you require extreme speed, a standard hard disc should suffice.
You should also figure out how long you'll require VPS web hosting. If you need hosting for a short amount of time—say, less than a month or two—you'll usually get a refund if you cancel within 60 days. The terms of these money-back guarantees differ from one web server to the next. Company X, for example, might offer a 30-day money-back promise, whereas Company Y would offer a 90-day money-back guarantee. Always browse around for the characteristics that best suit your web hosting requirements.